There is no doubt that a pizza stone for oven is one of the most crucial elements of making the perfect pizza. You will notice that literally, every top chef in the country uses a pizza stone.
Well, this is quite explainable. A pizza stone is designed to conduct and hold heat in it. As a result of this, the oven temperature remains rather steady even after a cold ingredient (uncooked pizza) gets introduced into the oven. As a result of this, the pizza is cooked more evenly and the bottom becomes crustier.
However, this works for a range of other cooking items that includes a whole chicken, vegetables and roots, bread, giant cookies, and for reheating/preheating certain foods.
Essentially speaking, a pizza stone is a circular slab that is often large in size and is made out of salt, stone, or ceramic. While pizza stones are generally designed to cook a pizza, they can also be used for other food items.
Usually, the ideal location for a pizza stone for oven is considered to be the center of the top rack in case you are cooking a pizza. For other items such as cookies, the lower rack is considered to be more suitable.
Similarly, a pizza stone for the grill works in a similar manner and can cook you a grilled pizza in no time. A number of people prefer grilled pizzas over oven pizzas because of the distinct smoky texture that a grill gives.
Nevertheless, the quality of the pizza and its crust significantly depends on the quality of the pizza stone. In this regard, it is important to use pizza stones from a reputable brand such as Shengye.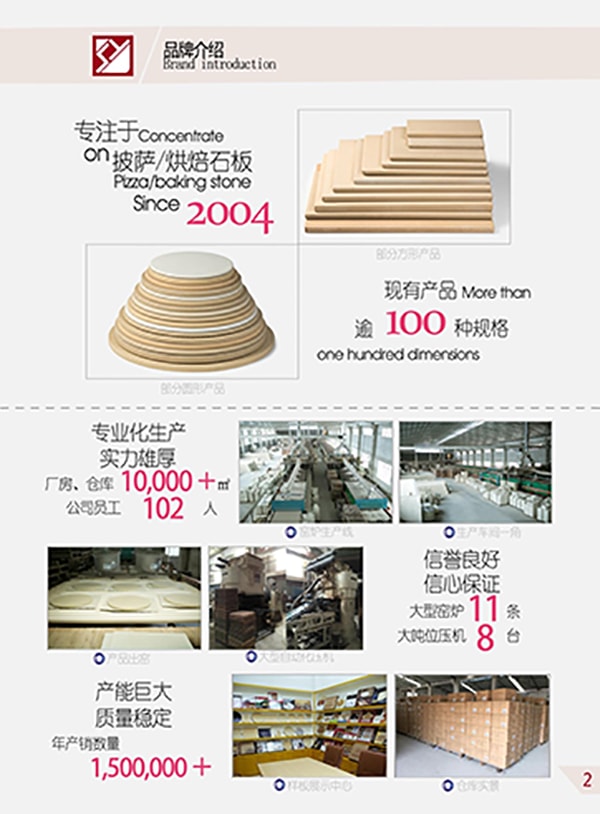 Shengye is one of the largest suppliers of pizza stone in China, having specialized in a pizza stone for grill, cordierite stone, and pizza stone for oven. It has been operating from the last 22 years, which makes it one of the most experienced companies in this line of the field.

The notable products by Shengye include pizza oven stone with handles, deflector stone for oven and grill, thick high-temperature resist stone for ovens and grills, non-stick pizza stone set with an aluminum plate, and a lot more.
Among the pizza stones, the company offers a wide range of selection that includes cordierite, square, round, with steel handles, and frames. Some pizza stones also have thermometers installed in them.
One of the prime benefits of using a pizza stone is that it absorbs moisture. It is said that the porous nature of the pizza stone is what results in a crispier crust. This is perhaps one of the major reasons why you need a pizza stone in your kitchen.
Nevertheless, a pizza stone is bound to make your life easier especially if you love to cook pizzas very frequently. Do remember, that a pizza stone is not just limited to pizza. Rather, it can generally be referred to as a baking stone, capable of cooking a wide range of food items.