Pizza Grilling stoneis the secret equipment using which the renowned restaurants are able to make a delicious pizza. You can get the bbq grill pizza stone online from a number of manufacturers. There are other different types of pizza stone also, each of varying material, size, and thickness. You can choose the type of material you want from the models that come in stone, cast iron, steel as well as the ceramic material. This can be decided on the frequency of baking pizza as well as the desired quality of pizza stone for grill.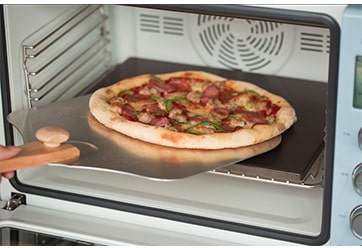 It is possible to enhance the quality of a pizza if you opt to bake it on a pizza grilling stone. The issue with the ovens at home is the lack of enough heat for baking a perfect pizza. Here comes into play a grilling stone which has a good heat retention capacity to bake it perfectly. Among the various types of stones, the cordierite pizza stone is the best one. Though its price is a little high, it is reliable owing to its good durability, the capability to withstand high temperature, non-absorbing characteristics, thermal shock resistance as well as free from lead. Despite baking pizza frequently on such kind of pizza stone for the grill, you can use it for years together and it will stand up to your expectations.
Compared to the above type, the ceramic model is cheaper but causes structural difficulties. So, you should invest in the Cordierite stone for an amazing experience with respect to the texture as well as crispiness. But it is extremely important to choose the right place to buy the pizza grilling stones at the right price, such as Shengye. The one which the company supplies can be used in the commercial or household oven. It can even be used as a bbq grill pizza stone or directly on the fire.
Cordierite pizza stones are known to have a high capacity tolerating capacity of about 1400℉. So with these stones from Shengye, you can expect your pizza to be perfectly cooked in less time. So unlike certain other baking equipment, you do not have to worry that it has been partially cooked.
For using a pizza stone, it needs to be placed in the preheated (550°) oven first after which the pizza can be placed on the stone using a flat surface. In order to avoid the sticking of the pizza on it, some flour can be sprinkled over the surface. Then it can be baked to the desired extent. It is important to remember that the pizza grilling stones should not be directly kept in a hot oven to prevent it from cracking. After it is baked, the stone should be left as it is, for cooling down without doing so using cold water. Once the heat is dissipated, it can be subbed just like other utensils and allowed to dry fully before reusing it.