How to Make Stone Baked Pizza at Home?
Source: sy-stones
Date:2020/06/30
This is a simple recipe to make stone baked pizza at home. Baking stones are the perfect partner of any sort of oven you use at home because crisp and crunch of your pizza are totally based on the type and material of the stone you use. Therefore, try to choose a perfect sized and perfect material enriched homemade baking stone. It is better you select a 21 inch pizza stone so that you won't have to worry in future while making bigger sized stone baked pizza at home. However, the size of homemade baking stone should be complementary to the size of your oven. Let's get back to the recipe.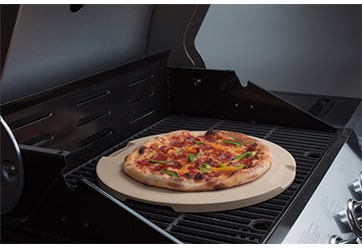 This is a simple recipe for authentic bake oven pizza made famous by several renowned Brookline pizzerias. Since all recipes members who shared this recipe, added that it is best accompanied by an ice cold beer.

Making Dough with Bread Flour for Pizza Bread:
• Let's begun by pouring a quarter cup of boiling water into a large bowl.
• Sprinkle one teaspoon of active dry yeast over the water. Allow yeast to stand for five minutes.
• Next, stir in one cup of cold water
• Add one teaspoon of salt
• Add one cup of bread flour into the mixture and stir
• Now, add another cup of bread flour and keep stirring during the process
• Finally, add the third cup of bread flour and stir again until it comes into a dough form.
• Make dough together and pull it from the sides of the bowl

Making Flat Breads:
• Now, sprinkle some dry flour powder onto a flat surface and turn the dough on it
• Let it stay for ten minutes
• After ten minutes are passed, take a utensil and divide the dough into two equal pieces
• Roll each piece into a tape ball
• Sprinkle some olive oil on the upper surface of the bowl
• Place balls in a clean sealed container and refrigerate them for 16 hours. (Make sure the bowl is large enough, giving enough space to the balls, to stay without touching.

Adding Ingredients:
• Remove the dough at least one hour before using it to make pizza
• Now, place a homemade baking stone on the lowest rack of your oven and preheat it for 550 degrees.
• Now, start making flatbreads with dough, for this put the dough on a flat surface and keep sprinkling flour on the dough so that it doesn't get goring over the surface.
• 14 inches diameter dough is enough to make pizza on 21 inch pizza stone.
• Add three ounce slices of mozzarella cheese on top of the dough
• Sprinkle black pepper on top of the cheese according to your taste
• Sprinkle other spices as well
• Add tomato puree free of salt on the surface but there should be some empty spaces left in the surface
• Twizzle ½ tablespoon of olive oil on the empty spaces of tomatoes
• Transfer pizza on the pizza stone. Be careful not to get burnt.
• Remove pizza after 5 minutes

Voila, your pizza is ready.